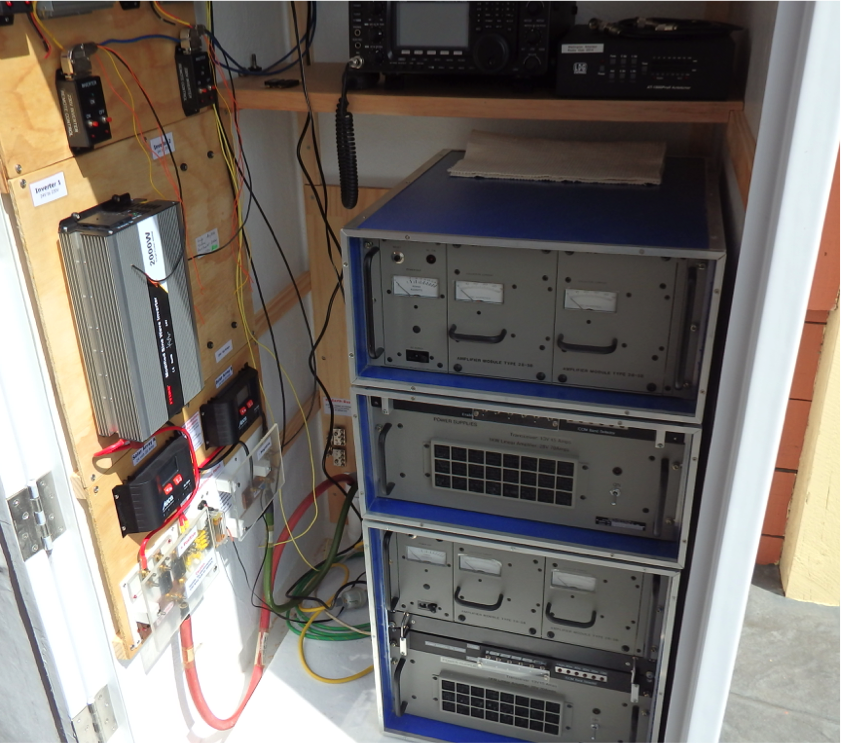 Bernard ZL2BD has been busy over the summer installing the equipment for th Remote Site in the enclosure.
The enclosure (a ply box with inside and outside layers of fibreglass) is shown fitted out with:
Wellington Amateur Radio Club (www.zl2wb.com) transceiver (Icom IC7410)
Solid-state linears and power supplies (donated by Kordia Ltd)
Switching regulators to provide 230v DC, 24v and 12v DC for the various items
Two solar panel regulators
Wiring harnesses to connect to the huge battery bank.
Progressive testing is imminent – any noise problems will be dealt with as they arise.  A range of jobs remain including:
Completing the antenna switching equipment
Completing and testing the SCADA software to operate remotely (SCADA = Supervisory Controller & Data Acquisition). Frank ZL2TTS has been working on this.
Cooling circuitry – both assembly and installation.  The cooling equipment will be mounted on the enclosure's front panel.
This work is not too far off being completed and the QHUG team will then move to a test period to ensure everthing works correctly, before antennas are constructed and the equipment is installed in the remote site.