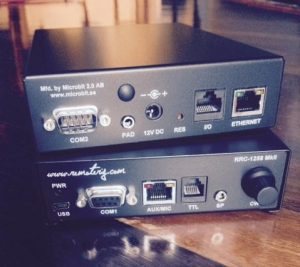 The Quartz Hill User Group (a committee of the Wellington Amateur Radio Club Inc) operated ZL6QH from Makara from 1997 – 2007.  The arrival of a collection of wind generators on the site saw us departing as a result of the S9+40 interference!
For several years we searched for a replacement site. Eventually we came to the realisation that we weren't going to find a site that would host a collection of long wire antennas (with 300m legs).  We needed to rescale the vision! We came up with the idea of remote sites with a smaller footprint … using antennas such as fixed beam antennas on the higher HF bands and four square arrays on the lower bands.
With the support of our host branch (Wellington Amateur Radio Club Inc – Branch 50 NZART) the then Chair and Secretary/Treasurer of the Quartz Hill User Group (Mike ZL1AXG and Doug ZL2AOV) visited branches in the area to gauge interest in the creation of a new special interest group.  There seemed to be quite a bit of interest with around 50 people signed up to receive email updates.
A plan was hatched to launch a new incorporated society in November 2016 that would administer any remote site(s) and related support technologies including the high speed regional broadband network used to transport signals into our home QTHs.  RemoteDX is not about creating a new NZART branch, but rather it is about creating a regional support structure for joined up amateur radio projects in the region.
This site provides information about RemoteDX Inc, its current projects, and future projects planned to support amateur radio within the Wellington region.
Mike ZL1AXG
(updated May 2019)